Mythe Farm Caravan Storage
We are currently full and have no spaces available, please use the 'get in touch' form or contact us on 01827 215207, We would be happy to add your name to our waiting list. Office hours are 9:15am – 2:15pm Monday – Friday. Any enquiries outside of these times will be dealt with as swiftly as possible.
Mythe Farm Caravan Park offers secure and safe storage solution for motorhomes and caravans in the Leicestershire, Warwickshire, Birmingham, Nuneaton, Tamworth and Hinckley area. Our secure caravan storage site safely accommodates today's large & costly leisure vehicles & to give flexibility to owners who can collect & deliver with ease .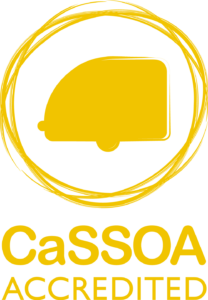 Our CASSoA Gold Caravan Storage site near Atherstone is both professionally operated and accommodates safely and securely all types of motorhomes, caravans, trailers, and leisure vehicles. Storing your caravan at Mythe Farm is the ideal solution to help reclaim lost space on your driveway while ensuring your motorhome remains safe and in good condition.
We provide safe and affordable motorhome storage facilities, allowing you to look forward to your next caravanning adventure with confidence and peace of mind.
All storage is on hard standing.
Here at Mythe Farm Caravan Storage we consider your mobile home's security to be of utmost importance, which is why our facility has CCTV cameras and access is controlled through strict Entry/Exit procedures.
Mythe Farm Caravan Park prides itself on offering National Standards coupled with a friendly service. We aim to be your 1st choice for Caravan and Motorhome storage in the Leictershire and Warwickshire area.
To use the storage at Mythe Farm you will need to have your caravan/motorhome insured, supply copies of the insurance document, CRIS or V5 documents , a utility bill and photo ID.
Caravan Storage in Leicestershire
Located on the Leicestershire and Warwickshire border, our caravan storage site is ideally located for individuals located near Tamworth, Hinkley, Nuneaton, Leicester and Birmingham with the M42, M69, M1 and A5 just several miles away. We are perfectly located for the storage of touring caravans with good access to the West Midlands, the rest of England and Wales. 
Our site is discreetly tucked away, avoiding man roads and other locations with significant passing traffic or pedestrians. 
For privacy, security and protection there is no better place than Mythe Farm – security at Mythe Farm is our top priority and you can relax knowing your motorhome is in safe hands. Our safety features include the following:
24 hour CCTV 
Anti Intruder security system
Owner on-site
Fire protection in place
Site access is limited to staff and scheduled visitors
Vermin control programme
No visibility from public roads
To use the storage at Mythe Farm you will need to have your caravan/motorhome insured, supply copies of the insurance document, CRIS or V5 documents and photo ID. 
Got any questions? We're here to help!
Caravan Storage Enquiries: 01827 215 209